Welcome to Water Mill Gardens 2013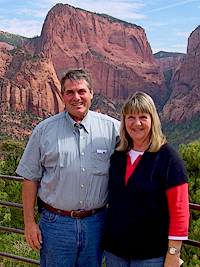 Hello to all of our daylily friends and garden visitors. This coming year should be extra special as we bloomed about twice the number of seedlings last year than we normally bloom. We have many hundreds of selected seedlings to view and evaluate in the garden. Many of these come from recent conversions and, oh so many patterns from DRAGONFLY DAWN and our very special WAVES OF JOY. This year we are offering 16 full formed tetraploids, three long petaled diploids and two new U.F's from Jane. We believe our flowers will look as good or better in your garden as they do in our catalog. This year, our friend Arlene Wierschem not only encouraged me to take better photographs, but came to the garden numerous times, her camera in hand, to take photographs for me. We are faithful to our reservations list and hold all telephone or E-mail reservations without payment until March lst at which time we expect reconfirmation or payment. This year almost across the board we have introduced our new introductions with less stock than ever before to bring out our best as soon as possible.
Dan & Jane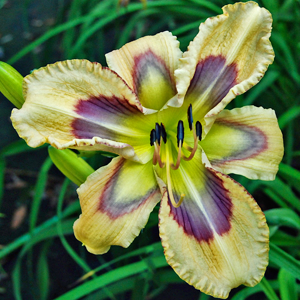 DRAGONFLY DAWN... patterned tetraploid by Jane Trimmer.
Below are several seedlings hybridized using this great patterned daylily.