welcome to water mill gardens 2014
hello to all of our daylily friends and garden visitors. this coming year should again be special as we bloomed and selected many seedlings out of jane's dragonfly dawn and dan's waves of joy that had wonderful patterns. we have also selected hundreds of other seedlings to view and further evaluate in the garden. seedlings we don't keep we offer to sell, but only in the garden. this year we are offering 5 patterned introductions, all out of dragonfly dawn. (they are angel love, delaney's rainbow, mackenzie's rainbow, nicholas brunetti, and sunflower blues) all of these are extremely limited. since there was so much excitement in the garden last year we promised our garden friends and visitors we would offer them this year with very limited stock for all of them. in fact we have never introduced any new cultivar with such little stock of each. dan also has our first introduction (banana breeze) out of tetra aldersgate. we believe all our introductions will look as good or even better in your garden as they do in our catalog. all of the patterns change and differ during the bloom season, but all vary from "good" to 'oh wow" during the year. pod fertility was extremely good on most of them. we are faithful to our reservations list and hold all telephone or e-mail reservations without payment until march lst at which time we expect payment. this year almost across the board we have introduced our new introductions with less stock than ever before to bring out our best as soon as possible. we have waited a daylily lifetime to put out a listing of plants and a catalog of this quality! across the board we are introducing limited numbers of very high quality plants.
dan & jane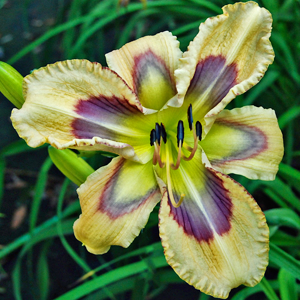 dragonfly dawn... patterned tetraploid by jane trimmer.
below are several seedlings hybridized using this great patterned daylily.